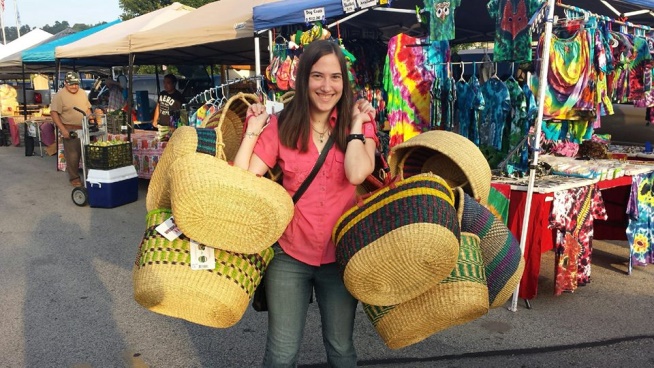 Ghana Tour Packages
It's fun to get all pumped up when you decide to visit a country you've never been to before or that awesome looking country your friend just returned from, with a backpack full of exciting stories, a few weeks ago.
But just like visiting the supermarket without knowing what to buy, you might visit that country on your bucket list and not know where exactly to go or how to get to those incredible sceneries. Fortunately, Grassroot Tours Ghana takes care of this part of your travel within Ghana so you can enjoy your tour.
This is what other wonderful tourists like yourself had to say about how Grassroot Tours tourist package made their travel fun and their experience extremely memorable.
"BRILLIANT! Michael arranged a 4×4 car for us and we did a 9-day tour starting from Tamale to Mole national park and we ended a wonderful and life-changing holiday." – Dan
"I had a week's vacation and decided it was time to see some sights. After communicating with several tour operators, I chose Grassroot because of their responsiveness and flexibility. Their prices are great too! Isaac, my guide, took care of everything. He even booked my flights for me. After I returned from the Mole trip, I took Kakum and Accra tours. With Grassroot, you're not stuck choosing from Tour A or Tour B. You get to design your own trips. I'll definitely call Grassroot the next time I want to travel to Ghana!" – David
"I completed a 3-day safari in Mole National Park, the guide Michael was excellent and very attentive, always making sure you didn't miss the animals and working to ensure that the activities I wanted to do were covered. The park had a good array of animals the option to see them by jeep, boat or on foot. Grassroot Tours, made the booking process easy, with quick responses to emails and the right level of detail provided." – Mike
This is just to have an idea of what will make your tour in Ghana the kind of trip that you've always dreamt of.
So it's not really about just visiting the places that will make you enjoy your travel and vacation as a tourist, the experience goes beyond that. It includes how knowledgeable the tour guides are, which places should be prioritized, what special needs of yours would you like the guides to be aware of and take into consideration when visiting any place, and what package best suits the kind of adventure you want.
These are the Ghana Tour Packages that Grassroot Tours has designed for you to enjoy your stay and movement within Ghana:
One Day Tours
3-Days Mole National Park Tour
7-Days Northern Ghana Tour
7-Days Southern Ghana Tour
9-Days "Off the Map" Tour
10-Days Savannah Region Tour
14-Days Wildlife Tour of Ghana
18-Days Cross Country Tour
Group Tours
Custom-made Tour
Heritage tour
Sometimes going on a group tour is the best tour experience you can ever have. There's a reason why tourists traveling in a group prefer to use Grassroot Tours. We offer an unforgettable experience and have such affordable tour packages for small groups, medium groups, and large groups.
Custom-made Tour
Just like having anything customized to your specifications, you can get a tour planned specifically according to your needs. This includes but not limited to where you want to go and how long you would like to spend in that desired destination. You can also have other things and plans added to your custom-made tour.
Grassroot Tours sometimes get tourists that have quite an interesting idea about how they would like their tour in Ghana to be like. When your plans somehow don't fall in line with any of our Ghana Tour Packages, because we want you to have a memorable lifetime tour, we will plan just that perfect adventure you want.
We welcome every tour idea you may have and will help you fine-tune it so that you can enjoy your stay and travel to any desired tourist attraction in Ghana.
3-Days Safari Tour to Mole National Park
If you want to have a remarkable wildlife adventure then you will love this tour package that's specially designed for that.
Mole National Park boasts of rich fauna and flora. Well, that's something a natural park that's one of the most visited tourist attractions in Ghana should definitely have in order to earn the right to be talked about as much as it is.
You'll get to see animals that the closest chance you probably have ever gotten to see is on a Wildlife documentary. There's an awesome experience that those who get the chance to see an endangered and rare species can't explain to anyone. It's engraved in the depths of their brains never to be forgotten. It's an experience that's priceless to such people.
Fortunately, on this 3-days trip to this natural haven, you'll be extremely glad that you decided to leave the comfort of your wonderful home and journey several miles to this amazing natural park in Ghana.
There's so much to experience that after the trip, you may want to get additional days and relive the 3-days experience all over again. To nature and wildlife lovers, this experience brings such a fulfillment that can't be compared to anything in the world.

14-Days Wildlife Tour of Ghana
If having just a 3-day adventure in the Mole National Park is a fascinating experience, then guess what a whole a 14-days wildlife tour of Ghana will be like. With good imagination you can already see yourself bursting with excitement and staring in awe the uniqueness of what your eyes can behold.
You will get to visit another amazing national park known as the Kakum National Park where you get to enjoy canopy walkways mounted on strong trees in the heart of the rainforest.
You will also get to visit the Bobiri Butterfly Sanctuary, the only butterfly sanctuary in West Africa, and enjoy the ambiance in the forest while watching and taking pictures of beautifully winged-butterflies.
The Mona and Tafi Atome Monkey Sanctuaries are also stop-overs on this trip. These tourist attraction sites have good-looking monkey species with an enthralling history. You will enjoy feeding the monkeys with banana and take pictures with them as well.
Shai Hills Resource Reserve is one of the destinations on this trip that you'll appreciate. This reserve consists of open grasslands with naturally arranged rocks that you would love to climb. Walking through the caves here is such a nice experience while being briefed about the Shai people who were the original inhabitants of this place. You'll love the view you see when you climb up the rocks. There's also wildlife including zebras, ostriches, baboons, and antelopes located here, the closest reserve to Accra.
There are other wonderful places to visit on this trip. Like the Kente-weaving and Adinkra cloth-making villages in Ashanti region, the Slave Market and Cemetery, Elmina castle in Cape Coast and Wli waterfalls which is the tallest waterfall in West Africa.
The highlight of this trip is the relaxation at some of Ghana's wonderful and beautiful beaches where you get to enjoy the cool sea breeze of the Atlantic ocean and play some good beach games.
18-Days Cross Country Tour
This package envelops a lot of fun places to visit as you tour almost every region in the country. Most of the places you'll visit are popular among tourists that take a trip to have an adventure or vacation in Ghana. These places include the Independence Square, Kwame Nkrumah Memorial Park, W.E.B Du Bois Center for Pan African culture.
This tour will take you to breathtaking waterfalls and national wildlife parks where you get to have an adventure in the wild. Mole National Park and Kakum National Park are definitely must-see places.
Lake Volta is the largest man-made lake in the world in terms of the land surface area it occupies. You'll get to take pride in taking a cruise on this enormous lake.
Visiting some of Ghana's historical buildings like the rare architecturally-designed Larabanga mosque and the Cape Coast Castle is part of what makes this trip worth it.
Other interesting places to visit on this trip include the Mognori Eco-village, Sirigu Potter Village, Wechiau Hippo Sanctuary, Page Crocodile Pond, the vibrant Kejetia Market, and Tamale Central Mosque.
You'll love the spectacular scenery of the Nzulezu Stilt village where a whole community lives and performs all other human activities on this magnificent water settlement.
Additionally, you'll get to experience the famous Ashanti kingdom by visiting the Manhyia Palace which is the official residence of the King of the Ashantis.
Day Tours
Sometimes because of a busy life, you may not have the time to enjoy and tour all the amazing sceneries and historical sites that you possibly can in Ghana. For this reason, we have designed just a day tour that will still give you a great and memorable experience that you'll forever cherish.
Grassroot Tours' Day tour packages include:
Day tour to Cape Coast – This is a visit to the Cape Coast Castle which is a UNESCO Heritage Site and the Kakum National Park, Africa's only rainforest canopy walkway.
Day tour to Bolgantaga – A day's tour to Paga Crocodile Pond, the Sirigu Pottery Village, Pikworo Slave Camp, and the Navrongo Cathedral which is also known as the mud-brick cathedral because of the mud walls.
Day tour to Tamale City – Experience how shea butter is processed and other wonderful places like the Tamale Central Market where you get to see the unique fabric as well as the artwork of the incredible people of Northern Ghana.
Day tour to Mole National Park – This is a day's adventure at the famous Mole National Park. You will also get to see the Larabanga Mosque which is fascinating because of its architecture and the Mognori Eco-village.
Day tour in Accra – You'll get to visit the Kwame Nkrumah Mausoleum, the Independence Square, the Arts Market and other wonderful places you wouldn't want to miss in Ghana's capital.
Heritage Tour
There's an experience that comes with heritage tours that's really different from just visiting amazing sceneries. You'll get to hear about stories of old from indigenes that you've probably only read a piece of in a history book or watched somewhere online, maybe on youtube. Ghana has an intriguing history and culture that will make you want to visit. You will only satisfy your curiosity when you partake in a heritage tour.
These are the list of heritage tours that Grassroot Tours organizes:
Ghana Panafest Tours (Pan-Africanism)
Ghana Emancipation Tours
Ghana Arts and Crafts Tours
Ghana Architecture Tours
Ghana Slave History Tours
You'll love each of these heritage tours because it will connect you with the people of this beautiful country, their past, and their present.
Bottom Line
Each Grassroot Tour Package including the 9-Days "Off the Map" tour, the 7-Days Northern Ghana tour, the 7-Days Southern Ghana tour and the 10-Days Savannah Region tour is carefully planned while taking into consideration your safety and satisfaction. The treasured memories you will make on these tours are priceless so we go above and beyond to help you create those wonderful memories. Get in touch and let's help you choose the right tour package for yourself, family, or group.