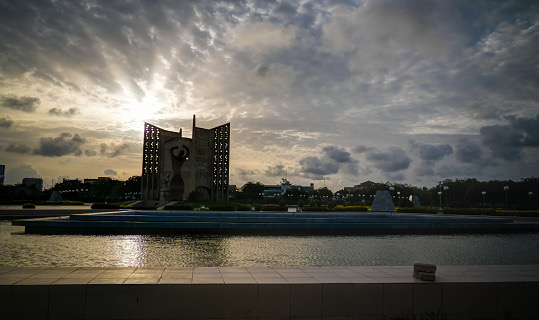 Ghana Togo Benin Tours
Travel West Africa; Ghana, Togo, and Benin
Why West Africa


"It was a sunny day and the birds were chirping a melodious harmony as we walked the trail to the waterfalls. I was enjoying every moment of this trip and making sure I wasn't skipping on any fun activity that could become the best memories of touring this evergreen West African country. I couldn't get enough of it. I wanted to see more but my time was up, I had to go and start preparing to see my patients again…Whew, the best vacation I've had in Africa".
This is what Emy, a psychologist from Idaho had to say at the end of a thrilling adventure to Ghana, Togo, and Benin.
Want to know why Emy chose this West African tour package? The answer is a treasure kept safe within this article. Each sentence is a piece of the map that leads you to uncover the answer.
What Does West Africa has To Offer on a Tour
It isn't really a new craze to see travelers and adventure-seeking tourists trooping to check the wonderful wonders of nature in West African countries like Ghana, Togo, and Benin. For the sole purpose of having a wonderful travel experience outside your comfort zone, many travelers have toured the wonderful and vibrant cities of these peaceful African countries.
From the wildlife adventures in Ghana to the cultural heritage tours in Togo and the historical buildings in Benin, tourists like yourself have been fascinated by what their eyes have seen and experience they've had. Even those that didn't know what to expect expressed interest at the end of their tour to return with families, friends, and colleagues to see more than they did on their first trip to West Africa.
If you want to know and experience how it feels to travel and tour a tropical region, then your best option is these evergreen peaceful countries that are the preferred choice for people traveling to Africa for sightseeing and an adventure of a lifetime.
The experience and the bond you will create with the hospitable citizens of these countries as you admire the breathtaking tourist attractions are worth every moment of your time. At the end of your trip, you will be glad that you made that decision to close the doors of your comfortable home and fly thousands of miles to create wonderful memories that you could share as interesting stories when you return home.
Get in touch with Grassroot Tours and let us help you make your vacation in West Africa worth it. And just like the wonderful people who opted for our West Africa Tour package, the experience, adventure, and friends they made was something they wouldn't trade for anything in this world.
So what will you see in Ghana, Togo, and Benin…
What To See In Ghana
Ghana is home to travelers from all over the world. This peaceful West African country boasts of amazing wonders of nature that will make every tourist want to stay longer. The experience with the locals of the communities where some of the tourist attractions are situated will make you understand why thousands of tourists keep visiting these fascinating sites.
You wouldn't want to miss the largest man-made lake by land surface area, the only UNESCO heritage site in the country, the national parks which are some of the most visited places in Ghana.
So what are the specific tourist attractions that you must add to your list of must-see places in Ghana?
Mole and Kakum National Park
These national parks are famous for their rich fauna and flora as well as their evergreen nature. They are open all year round and can be visited by individuals and groups including family and friends.
Mole National Park is a wildlife sanctuary where you get to see and experience animals like elephants and leopards in their natural habitat. The safari rides will make you see so much of the vast natural park than you would on foot. There is a cool place you can stake out at night if you would like to see those nocturnal animals that can hardly be spotted in most wildlife parks.
There should always be something that you can touch and feel that will serve as a commemoration of the places you tour. For this reason, Mole National Park has arts and crafts that you can add to your belongings to serve as a reminder of the experience you had.
Kakum National Park is notable and mostly visited for its Canopy Walkway. You have to walk 7 bridges to complete the walkway. The site of the canopy walkway is breathtaking and will leave you in awe because of the really tall trees on which the walkway is hanged. And the strong ropes which keep the bridges suspended on the trees are well maintained for your safety.
Waterfalls
Yes, waterfalls are found in most countries in the world but the ones you will visit in Ghana have amazing stories to it. Stories like how it was formed, where it starts from, and where it ends. Among the fascinating waterfalls in Ghana are Wli waterfalls and Boti waterfalls.
Cape coast castle is one of the must-visit tourist attractions in Ghana. You will hear the undiluted stories of how it was used for the transatlantic slave trade.
Don't miss the Osu Castle, the only UNESCO Heritage Site in Ghana. This was once the seat of government in Ghana so there is so much history within the walls of this tourist attraction.
What To See In Togo
Though Togo is a small West African country -you can literally cross the width of this country by driving or about an hour- it has tourist attractions with experiences that will forever be engraved in the depths of your memory. From the colorful street life of Lome to the incredible landscape at Koutammakou, you will reward yourself for deciding to travel to Togo.
Koutammkou is one of the most visited tourist attractions in Togo. One of the first places to be named a UNESCO Heritage site in Togo, its cultural landscape, and mud houses called takienta has made it the symbol of Togo's tourism.
Savanna Wildlife
The dry nature of Togo's land makes it home to fauna and flora that dwell and survive better in such conditions. Some of the amazing sceneries that attract tourists to this wildlife sanctuary are Fosse aux Lions national park, the cave paintings of Namoudjoga, Oti's alluvial plains, and the Mandouri game reserve.
Voodoo village
The stories that you've probably heard about Togo having a voodoo market will be confirmed when you get to this village. You'll find several voodoo shrines at every turn you make in the village. This village is known as Togoville and it is one of the famous voodoo centers located in Africa. One other attraction tourists visit in the village is the Togoville Cathedral which was originally built and decorated with Black Saint Artwork which was meant to dissuade the locals from practicing voodoo.
What To See In Benin
Benin has the Python temple which is home to about 60 pythons that are revered and worshipped. Another famous place that tourists don't skip is Ouidah.
Ouidah has a rich history that any traveler in Benin will appreciate. This is because this tourist attraction showcases a combination of Portuguese and French cultures that are now part of the locals. The stories told during a visit will make you understand why Benin has kept this tourist attraction for decades and still maintains it so that tourists like you can understand and appreciate their history.
If you love birds then you would want to visit Lake Nokoue when you travel Benin. It is a great spot for bird observers to see bird species like the African openbill and the White-crested heron.
Cotonou is blessed with secluded clean beaches that are like a paradise. This is a great place that most tourists hang out and relax in Benin.
Benin also boasts of a UNESCO Heritage site known as Abomey. The famous tourist attraction site is home to ruins of historical palaces that have fascinating stories of the past Kings that ruled in ancient Benin. Interaction with the locals of this city will make your tour experience worth traveling to Benin.
Other sightseeing places in Benin are the ancient palace located in Nikki and the jewelry designing Pehunco village.
West Africa Tour Packages
Grassroot Tours has designed tour packages that let you travel Ghana, Togo, and Benin without stress. These tour packages ensure that you get enough and memorable tour experience all in one bundle.
One of the favorites that most tourists opt for is the Ghana-Togo-Benin tour. If you are looking for a tour experience that makes you experience three countries in such a manner that you will feel like you are traveling one country, then this is the right package for you.
The already designed West Africa Tour packages have a 13-day and a 14-day tour package. The activities in both packages are similar in nature but the places to visit during the tour vary. Whether you choose to go with the 13-day tour package or the 14-day tour package, the adventure starts in Accra, goes through Togo to Benin, and ends in Accra. You will enjoy the bustling city life in all the capital cities of these peaceful countries. A wonderful site that you will love is the range of mountains you will see from a distance along the road on the way from Ghana to Togo.
The road trip experience will be one of the best you will ever have on your travel to Africa.
No matter your needs, Grassroot Tours is here to help you with any specific requests. Though there are already designed tour packages to travel three West African countries, we can still do the very best, to make you enjoy your trip. That means a special tour package to see West Africa can be customized just for you according to the adventure you want.
The stories that you will hear of the places you will visit will make the bundled tour package worth every moment of your travel. This might be your best option to tour more than one country in a short time. And the best part is you are likely to get a discount since this is a bundled tour package.
So this is what those who have toured the length and breadth of Ghana, Togo and Benin using the West Africa tour package had to see:
"The initial plan was to travel to Ghana and witness the amazing sceneries that my cousin who traveled here wouldn't keep mute about. When my tour had ended, I asked the big question, 'What else is there to see?'. And I must say that I was glad that I crowned my tour experience with the trip from Ghana, to Togo and Benin and back to Ghana. I'm glad it was Michael and his team that handled every detail about my traveling."
"There are more than good reasons why Grassroot Tours has good reviews on every travel advisor website. My wife and two teenage boys were left in awe at the places we toured. What made the tour fun was the road trip from Ghana to Togo and back. I must say that they've left an indelible memory that my family will forever cherish."
The experience you will have is beyond words, contact Grassroot tours and let us help you plan your tour right from the start to the end. That includes when you leave your wonderful country to the time you will spend here in West Africa and when you have to jump back on the airplane and head back home.