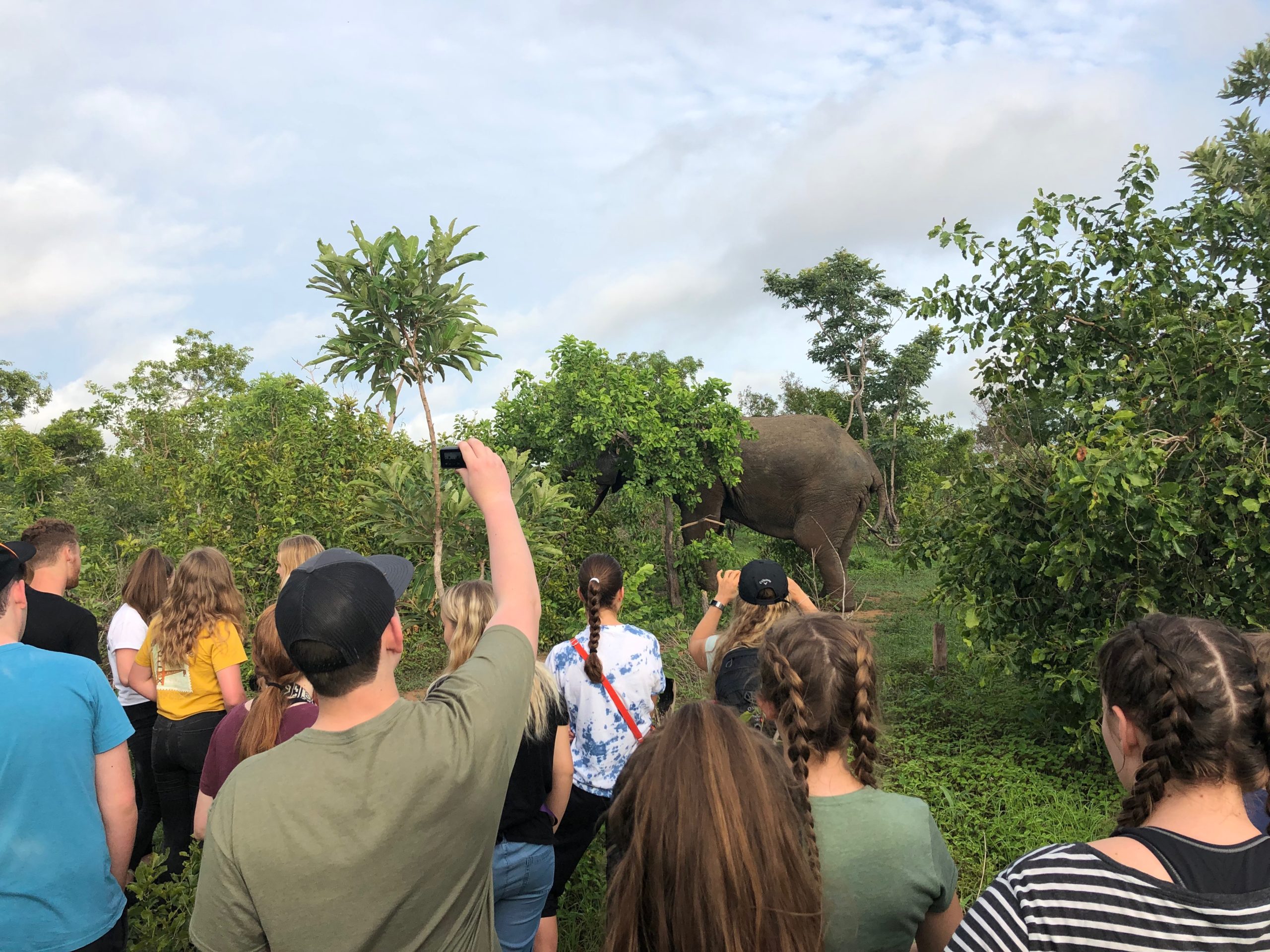 Mole National Park
Mole National Park, Ghana's Wildlife Travel Hotspot for Tourists
Call it the safe haven for wildlife in Ghana, Mole National Park is the notable wildlife sanctuary in the Northern Region of Ghana. It is located in the virgin Guinea Savannah Woodland which is characterized as the largest vegetation zone in Ghana. 
The park is home to a lot of animals including more than 90 mammal species, 334 bird species, 33 reptiles, 9 amphibian species, and some 120 butterfly species. All these animal species and about 742 plant species inhabit a large area of land which measures 4,849 sq km. That's about the size of six hundred and forty thousand (640,000) football pitches put together. That's quite a big land with diverse life forms flourishing and living together.
This natural park is one of the only 2 national natural parks in Ghana that records hundreds of thousands of visits by tourists in a year. That figure is expected to increase exponentially in the next few years. This is because the world is getting to know more about Mole National Park, what it offers, the experiences you gain there, the wonderful memories you can hold on to for life, and the connection you make with nature and the locals when you travel there.
Mole National Park is famous for its wildlife habitat but the flora based environment is a whole ecosystem on its own. Don't worry, we'll talk about all that in a bit. You will be done reading every bit of this wonderful read before you are done emptying your cup of coffee.
What Wildlife Do Tourists Really Come To See?
That's dependent on what your interests are. Different travelers have specific reasons why they visit Mole National Park. Some go to see endangered species in their natural habitat including elephants that are targeted by poachers. Because the large population of elephants, about 600, and other animals are endangered in Mole, the whole area encompassing the park has been designated as a wildlife reserve. 
Any activity including hunting that could harm and kill these protected species is prohibited in the park. So if you want to witness these magnificent animals in their natural habitat, Mole National Park is the place to be.
Animal Distribution in Mole National Park
The park boasts of the presence of hyenas and buffalos, animal species that probably you've only seen in Disney movies like the 'Lion King' or national geographic documentaries. Plant eating animals like the oribi and the muscular roan antelope, kob, duiker, and reedbuck which are only found in West Africa also stroll the park.
Your eyes are going to open widely in awe when you spot animals like the leopards, warthogs, civets, caracals, genets, jackals, mongooses, patas monkey, and the green vervet monkey.
Others, visit Mole National Park because of the different species of birds that have made this natural habitat their home. Birds like the Carmine bee-eater in its reddish color mixed with a brown feather body that's partly blueish are beautiful to see. Anyone that sees these birds for the first time expresses their excitement in awe. They are only found in warmer regions of Africa. Only a few tourists are fortunate to capture that magical moment where the birds use a hunting technique where they launch from a perch, catch an insect from mid-air and return to the same or a different perch. This has earned them the nickname "masters of hawking". Maybe you might get the perfect timing to capture such a breathtaking moment. Their dramatic display as they come and go from burrows they've built makes the sightseeing priceless and worth the experience. 
The Saddle-billed stork is another bird species that can only be found in Africa. Though this bird species is found only in Africa, they can only be spotted in a select few natural parks, and Mole happens to be one of such parks. Some people have expressed the bird's look as if it is a deliberate act of painting by a professional artist. That sounds aesthetically pleasing and makes you want to see them yourself, right? 
This Mole National park bird species earned the 'saddle' part of its name because of the design of the feathers. The middle section of their dark-colored body to the base of their neck is splashed with color as white as snow. And their extremely long beaks are segmented into 3 colors including black, yellow, and red. They also have a bit of red in their knee region. Additionally, these are the reasons why you would want to see the Saddle-billed stork:
It is the Tallest Stork in the World

When they spread their wings, it is beautifully patterned into an artistic design of black and white

This stork species is Africa's bright-colored bird

One of the few birds that are carnivores. Over thousands of tourists have witnessed the saddle-billed stork feed intelligently by hunting for fish and crabs. Maybe you might also be graced with such a beautiful sight. They also feed on smaller reptiles (lizards), mollusks, bird eggs, small mammals, and large water-beetles.
Who wouldn't want to see such beautiful art of creation?
There are other bird species that can make anyone go to the park just to capture wonderful shots (pictures) of these birds thriving and having a peaceful time in this huge wildlife park.
Some travelers are fascinated by the park being a dwelling place for about 33 reptiles. Among the notable ones that are easy to spot are the Nile Crocodile, slender-snouted crocodile, and dwarf crocodile. They are mostly found in rivers in the park.
Butterflies are one of the beautiful creatures that make the world a colorful place. And you have the opportunity of seeing these charming life in Mole National Park. What's even amazing and makes your trip worth it is that among the over 50 species of butterflies in the park, Mole National Park is the only place in West Africa that has a special butterfly with a unique fiery color pattern on its wings. And that species is the Anthenetalboti.
Plants Distribution in Mole National Park
Nobody visits this wildlife sanctuary without noticing the flora species covering the landscape of the park. You will find an abundance of over 700 species of plants that are spread at every turn in this natural park. It is heavily populated with deciduous trees and other trees such as acacia, baobab, and silk cotton plants. And if you've heard about the pure and medicinal shea butter from Ghana then you will appreciate the sight of the park that the Shea Trees are found.
the park has quite a number of gallery forests which are distributed along the rivers and streams. It offers shade to most of the wildlife including the antelopes and monkeys in the park.
15% of the park's plant species aren't found in forest zones or anywhere in Ghana. In other words, if you want to see how these plants look or possibly do a study on them then you have to travel to this savannah woodland.
Why Every Tourist in Ghana Doesn't Leave Without Seeing Mole National Park
Aside from the rich fauna and flora that travelers go to see at the park, other fun activities and the 5 reasons below stir tourists up to pack their bags and go on a thrilling and adventurous tour at Mole. 
A Lovely Place for Wildlife Explorers and Photographers
Everyone enjoys seeing well-captured pictures of animals in their natural habitat by professional photographers. We get to use such pictures for our website content, social media posts, computer desktop wallpapers, and other projects that require snapshots and videos of animals in the wild. And that's exactly the reason why professional wildlife photographers take a trip to Mole to let the world know the animal species in this African wildlife park.
Experience In the Park
Grassroot Tours is yet to see anyone that has been disappointed when they got to Mole National Park. Each moment spent in the park is like a dream-come-true. The activities that are involved in the tour at Mole leave you with fun memories that make the adventure a worthwhile trip.
The Safari rides are always an enjoyable part of the tour. There are different types of Safaris that you can use depending on what activity is being undertaken at a particular point in time, which part of the park you want to get to, and what animal you want to see and take pictures of. 
There are foot and drive safaris. As the name goes, foot safaris involve walking and normally lasts for about 2 hours. So get comfortable shoes and bottled water for hydration for this tour activity. Some of the animals you will spot while on this type of Safari are elephants, birds, antelopes, baboons, and monkeys.
Drive Safaris are the most fun for most tourists and you won't be the exception. It involves using jeeps to tour the park and because you drive through the park, you get to tour a lot more and see more than you would on foot. There are day safaris and the night safaris are mostly for spotting nocturnal animals like hyenas.  Night safaris normally take just about an hour so that the animals can be left undisturbed.
You wouldn't want to miss the bicycle and motorbike tours at Mole. These special tours are done in groups and it is planned in such a way that before the tour ends, you would have seen several hotspots of the park. Bicycles and motorbikes are usually used for a unique type of tour called Wilderness Tour. The hotspots include rivers, pools, natural springs, the numerous camps in the park, and the famous saltlick. You will definitely want to cool off at the Kparia waterfalls which are a must-visit place during the wilderness tour.  
One of the most satisfying activities in the park at night is called Tree Hide. This is mostly recommended for any traveler that wants to have enough time -usually more than the 2 hour night safari- to see active nocturnal animals like civets. Viewing is done on an elevated wooden platform built on securely strong trees. Because the park prioritizes your safety, an armed guide will be with you throughout your stay in the night on the viewing platform until day breaks and you leave.
As part of your tour of Mole, you may get to see the caves situated at the center of the park. The archeological history attached to these caves is what makes hiking to this wonder of nature a cool experience to add to this trip. 
Memories To be Made
Every moment you spend in the park is a memory that's recorded and added to your brains traveling archives. From the moment you enter the park to every activity you indulge in, your brain starts rolling as if a movie scene is being recorded. And it doesn't stop until you walk through the big gates of Mole National Park on your way out. The memories you make in the park will serve as fond memories that will become a reserve of knowledge that you can fetch from at any time to tell the great tale of your travels in Ghana.
Fun Road Trip
Everyone enjoys being on a road trip so tourists like you have fun on the road to Mole National Park. You get to see the entirety of the Northern region of Ghana while driving to Mole National Park. The change in the landscape as you journey to have an adventure of a lifetime will make you appreciate the decision to leave the comfort of your home to tour Ghana.
Connection with the People
You will love the hospitality of the people of Northern Ghana. Some tourists have stated that it is the kind, welcoming, and warm reception you get from the locals that account for the influx of tourists to attractions like Mole National Park. You get to hear the history of the people. And undiluted stories like how the park formed part of a route that was used for the slave trade is what grasps the attention of tourists that want to have a story to tell when they get home.  
The creativity of the locals will make you want to get something you can physically touch that will serve as a reminder of your adventure at Mole. They are into local fascinating crafts like basket and mat weaving, pottery, and smock production which is a major economic activity in the area. Each of their crafts is done in a way that's so unique that you won't see their style in any part of the world.
Nearby Tourist Attractions
There are other tourist attractions that come as a bonus when you visit Mole. These sceneries are in close proximity to Mole and complement the adventure you have at the park. The tourist attractions include Mognori Eco-village, Larabanga mosque, and Wechiau Hippo Sanctuary
There are fringe communities to Mole National Park and one of them is Mognori Eco-village. The village cohabits with nature so you will love the cool ambiance and the stories about the village. You will get to go on a canoe safari where you can spot crocodiles, monkeys, and birds.
Larabanga mosque is the oldest mosque in Ghana and West Africa. The mosque has the design of the ancient Sudanese style of building and it is this architecture that tourists like you would like to see and listen to the history attached to this mosque. You wouldn't want to end your adventure without seeing this mosque because it is one of the 100 endangered sites of the World Monuments Fund's List. The mosque houses a very old Koran which is thought to have been delivered from heaven to an Imam called Bramah, around 1650.
Wechiau Hippos Sanctuary is a protected area for hippos and it stretches about 40km on the eastern bank of the Black Volta River. You will get to go on a canoe safari and view the hippos in their natural habitat from a distance. The sanctuary is home to the only surviving two groups of hippos in Ghana and thanks to the area being reserved as a sanctuary in 1999, the hippos are unharmed by poachers. Additionally, the catchment inhabits about 200 species of birds.
There is so much to see and experience at Mole National Park so don't hesitate, contact Grassroot Tours today and let's help you plan an adventurous tour in this wildlife travel hotspot located in Ghana.