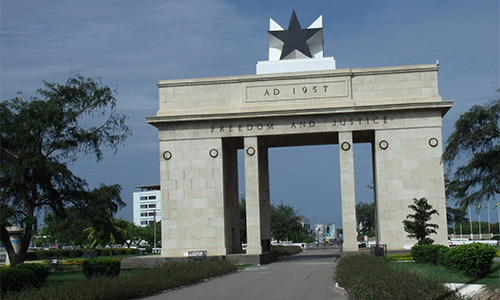 Ghana Visa Application For Non-Nationals
Ghana Visa Application for Foreigners, Travelers, and Tourists
One of the most important documents that allow you to travel to another country is the VISA of that country you intend to travel to. It serves as the entry permit to enter a country and go about your reason for traveling. 
In this informational read, I will take you through what you need in order to apply for a visa to Ghana, how to go about your application including filling of the visa forms as a tourist, and what to avoid to ensure a successful application.
Requirements for Entry Into Ghana
According to the Ghana Immigration Service, these are the requirements for entry into Ghana at any of the borders:
A copy of a return ticket or print-out of travel itinerary

International certificate of immunization against yellow fever

Valid passport  with at least 6 months to the date of expiration

Applicants should be legally resident in the country where Ghana's Mission is sited

Requested passport photographs should have been taken not more than three months prior to the date of submission
Conditions for Issue of Visa to Enter Ghana
Visas may be granted to personnel of international organizations and visitors to Ghana for tourism, study, business or transit.

The visa may be granted for single or multiple entry.

You can either apply for a Single Entry Visa or a Multiple Entry Visa. As the name depicts, the single entry visa can be used only once to enter a country for the specific purpose for which it was granted. Single entry visas become invalid the moment you leave the country. And the multiple entry visa can be used for unlimited entries into the country as long as the visa is still valid.

Irrespective of which of the two types of visas you apply for, it is only valid for 3 months. In other words, if you intend to stay beyond the 3 months, you need to apply for an extension of your stay in Ghana. You should apply for extensions before your visa expires in order to avoid paying additional fees as a penalty.

Applications for further extension to visitors' permit must be made at the Ghana Immigration Service in Accra for consideration. Tourists may be allowed a period of stay of another three months if the Ghana Immigration Service is satisfied that such tourists have sufficient means of financial support.

Visas must be utilized within three months of the date of issue. 

Visitors traveling on Business are required to furnish evidence of the fact, such as a letter from their firm, while those traveling at the invitation of Ghanaian nationals or residence or Ghanaian institutions should furnish a letter of invitation from their hosts.

Tourists may be required to provide a return or a through ticket to Ghana or may be required to show evidence of sufficient funds for the duration of their stay in the country. Emergency visas may be issued at entry points to travelers who arrive from a country where there is no Ghanaian diplomatic or consular representation, but such applications must be authorized by the Director of the Immigration Service through their sponsors before they arrive in Ghana.

Non-nationals who enter the country as visitors are not permitted to take up employment even if there happens to be a vacancy on the Immigrant Quota of a prospective employer.

Applicants on a visit to Ghana must provide a letter of invitation from their host in Ghana.
These conditions may differ slightly depending on which country or city you currently reside in, so click on the right link in the table below. 
Ghana Embassies Around the World & Visa Application Form
Country
Embassy Visa Application

United States of America

Washington DC,

Ghana Embassy

New York, Ghana Consulate

United Kingdom

London,

Ghana High Commission

Australia

Sydney,

Consulate of the Republic of Ghana, Sydney

Perth, Consulate of the Republic of Ghana in Perth

Canberra, Ghana High Commission

Belgium

Brussels,

Ghana Embassy

Brazil

Brasilia,

Ghana Embassy

Canada

Ontario,

Ghana High Commission

China

Beijing,

Embassy of Ghana

Czech Republic

Bubenec,

Embassy of Ghana

Denmark

Copenhagen,

Embassy of The Republic of Ghana

France

Paris,

Ghana Embassy

Germany

Berlin,

Embassy of Ghana

Italy

Rome,

Ghana Embassy

Japan

Tokyo,

Embassy of Ghana

Malaysia

Kuala Lumpur,

Ghana High Commission

Netherlands

The Hague,

Embassy of Ghana

Russia

Moscow,

Embassy of Republic of Ghana

South Africa

Pretoria,

Ghana High Commission

South Korea

Seoul,

Embassy of Ghana

Spain

Madrid,

Ghana Embassy

Switzerland

Berne & Geneva,

Embassy of Ghana

Turkey

Ankara,

Embassy of the Republic of Ghana

United Arab Emirates, Dubai

Abu Dhabi,

Ghana Consulate
If you don't find your country of residence and it isn't part of the exempted countries, contact Grassroot Tours and we will get you the link to download the tourists' visa form and the embassy's contact for any inquiries.
Exempted Countries
ECOWAS CITIZENS: Benin, Burkina Faso, Cape Verde, Cote D'Ivoire, The Gambia, Guinea, Guinea-Bissau, Liberia, Mali, Niger, Nigeria, Senegal, Sierra Leone, and Togo.

Holders of Diplomatic and Service passports of Kenya, Lesotho, Malawi, Namibia, Singapore, South Africa, Tanzania, Trinidad and Tobago, Uganda, and Zimbabwe.

Holders of Diplomatic and Service passports of Brazil, Cuba, Germany, Iran, Hong Kong Special Administrative Region (SAR) of China and Namibia.

Holders of an official passport of the African Union, Regional Economic Communities in Africa, the United Nations and its Specialised Agencies, IMF, WFP, THE WORLD BANK, and AFRICAN DEVELOPMENT BANK.

Persons in direct airside transit
Helpful Information for Filling Visa Application Forms
Certain parts of the visa application form may be a bit confusing so you can use these suggestions as a guide to filling your form correctly:
As a tourist, it is important to state where you will be residing on your visa application form, and for this, we recommend using the location address of the first hotel you will be lodging when you arrive in Ghana. 

If you don't have any references to use on your application you may use the contact address of our tour agency which is:
Grassroot Tours
Mole National Park
Ghana  +233 54 166 8682
 grassroottravelers@gmail.com
If you are having any challenges with filling your application form for a tourist visa to Ghana, don't hesitate to contact Grassroot Tours. We are always available to make your visit to Ghana stress-free.
Check a sample of the Ghana Visa application form below!
Sample of Visa Application Form